Every Monday,
They're All Our Children
features a simple "mission" that people can do to help children. Often it involves buying or making a small item, such as a toy, book or blanket, and sending it to a certain organization. If we all took just one day a week to doing something simple like this, by the end of the year each of us would have contributed hugely to the welfare of children everywhere!
On this page, you will find an archive of all the Mission Mondays. If you cannot afford to participate every single Monday, check here to find just one or two of your favorite Missions to complete!
SEPTEMBER 3
PAJAMAS AND BOOKS FOR NEEDY CHILDREN!
I can't think of a sweeter Mission Monday than this one! I hope you'll all participate!
Do you have warm memories of bedtimes when you were a child? Or even warmer memories of putting your own children or a special niece or nephew to bed at night? Imagine a crisp fall night, with a child in his warmest, softest pajamas, snuggled under the covers with his favorite bedtime book. Is there anything better than that?
But for a lot of children, in the USA and around the world, a clean and soft pair of pajamas is a luxury they'll never see... and so is a favorite bedtime book... and even a loving parent to tuck them in seems to be too much for some kids to ask for!
We may not be able to provide loving parents for every child who needs one... at least not right away, unfortunately. But one thing every single one of us can do is at least provide the snuggly pajamas and the treasured bedtime books!
The Pajama Program
provides needy children... many of them who are in foster care and waiting to be adopted into permanent families,,, with brand new pajamas and books. These tiny luxuries are things that every child deserves to have!
Here's all you have to do. Next time you're at the store, pick up a new pair of child's pajamas... any size you want, since of course children come in all sizes... and/or a new children's book.
You can mail your donations to the Pajama Program at:
The Pajama Program
34 E. 39th Street, Suite B
New York, NY 10016
212 71 MY PJS (212-716-9757)
or you can
find out if your area has it's own branch of the Pajama Program,
and donate pajamas or books directly to your own local branch.
With fall and winter coming up, its great to think about how many children we can provide pajamas and books for, isn't it?
AUGUST 27
COMFORT FOR CHILDREN IN CRISIS

I am so excited for this week's Mission Monday, because I have a wonderful, and fun, mission to share with you!
In yesterday's post, I wrote about the plight of foster parents who get very little support or even kindness from their agencies or states. Well, here is a way that we can do something to help foster parents and children in foster care!
My Stuff Bags is an organization based in California, but it helps children all over the USA. (Except, for some reason, for Vermont!)
Like we saw in yesterday's post, when children are taken into foster care, they often have very little, or even none, of their own things with them. In some cases, children must be rescued suddenly from a bad situation, and there isn't time to pack things up. Or, children come from situations where they don't have anything. Consider a child living in a home where meth is made and used. In that situation, the caregivers often are too focused on their own drug use, and cannot focus on buying clothes or toys for the children. And if the children do get to bring a few of their own items with them, these items are often hurriedly stuffed in platic garbage bags.
This is where My Stuff Bags comes in. They privide foster care agencies and crisis centers with special duffel bags, "stuffed" with comfort items for children of different ages. Every child recieving a bag will find in it some basic toiletries, a small stuffed animal, a blanket or quilt, a water bottle, a few cloths items such as T-shirts, socks, sweatpants, etc, and some extra items to keep them busy. The bag really becomes a survival kit for the children as they begin their journey through the foster care system.
Your mission is to help My Stuff Bags stuff their bags. The next time you're at the store, pick up one, or a few, items to send to this organization. The items must be able to fit into a 12" by 20" duffel bag, and can be geared towards children of any ages, from infants through teenagers. Here are some suggestions of things you might like to grab:
Stuffed Animals
Coloring Books /Crayons
Small toiletries
Small Photo Albums
School Supplies
Rattles & Pacifiers
Books
Hats
Toys for all ages
Journals or diaries
Hand held games
Children love handcrafted items, too!

The other thing you can do is send a soft, cozy blanket or a quilt. You could buy one (I love those soft, stretchy ones they sell at Wal-Mart, and I also love the big fuzzy ones with cartoon characters on them) or, if you know how, you could make one. Even if you don't know how to make one, there is a kind of blanket that is very easy to make, and the site shows you how to do it.
This is a really simple mission that just involves your picking up a little extra something when you're already at the store! So please, send these children a little of your love!
(You can send all donations to:
The My Stuff Bags Foundation
5347 Sterling Center Drive
Westlake Village, CA 91361
AUGUST 20
CARE PACKAGES FOR COLLEGE-BOUND FOSTER CHILDREN!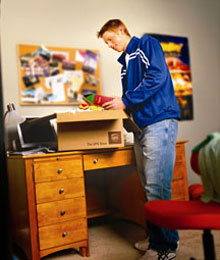 If you went away to college when you were young, you might remember that your parents or grandparents or some other family member sent you care packageson a regular basis and made sure you had everything you needed! For some youth who are from foster care, if they go away to college they don't have anyone who will send them care packages like that!
I recently found out that the Orphan Foundation of America, which provides scholarships, internships, and other opportunities to kids aging out of foster care, also has a program in which they send care packages to college kids who were in foster care. Kids in the program get three packages a year... one in September, one in February, and one in late April.
One of the simplest ways you can help out with this special project is to send a card with a hand-written note of encouragement to a college-bound kid from foster care. Your card will be included in one of the care packages. A lot of the kids who recieve the packages say that the cards are their favorite parts!
If you would like to send a card, mail it to OFA, Attn: Care Packages, 21351 Gentry Drive, Suite 130, Sterling, VA 20166, and it will be included in a care package.
You could also choose to send a book of stamps, or a gift card from a nation-wide or Internet store or restaurant.
Such an easy way to make a difference, right? School is about to start again, so jot down a quick card and put it in the mail today!
Happy Mission Monday!
AUGUST 6
SEND SURPRISES TO CHILDREN IN AFRICA!

A few weeks back I recommended a book called There Is No Me Without You, the story of a windowed Ethiopian woman who started an orphanage for children orphaned by AIDS.
The people who run orphanages must take every cent they come across and use it to feed, clothe, educate, and keep healthy, the children they care for. They often have no extra money to spend on frivolous things like toys.
My mission for you, should you choose to accept it, is to take a shoe box and fill it with small toys. Happy Meal toys are the perfect size and some are really amusing! Other ideas are packages of balloons, PEZ dispensers and PEZ candies, pads of paper and boxes of crayons, matchbox cars, silly putty, glowsticks, etc.
The reason for using a shoebox is because it is a small, light size. People in Ethiopia don't get mail service directly to their door... someone from the orphanage must pick up the mail and carry it, by foot or bicycle, back to the orphanage. So sending heavy packages is not practical. Plus, heavy packages might be stolen. And people in Ethiopia have to pay customs on imported packages... so if it is a large package full of expensive things, they may not even be able to afford it!
Once the shoebox is filled with exciting things, wrap it up and send it to:

Haregewoin Teferra
AWMWAHM
Gullele Sub-City Kebele 10/11/12
Addis Ababa, Ethiopia

When you fill out the customs form, be sure to list the value as less than $5.00, or "of no commercial value."

You may also like to write a letter of encouragement to the children at the orphanage. Tell them about yourself and your children, and let them know that they are in your thoughts and prayers!

I hope you choose to accept this mission!
JULY 30
TEDDYBEARS SENT FROM HANNAH!
Thanks for coming! I have a very special mission for you today, if you should choose to accept it.
As I've said before, for the month of July, 50% of the proceeds from ads ands ponsored posts will be used to send teddy bears to Operation Teddy Care, an organization that provides brand new teddy bears and other stuffed animals to other organizations that work with children in crisis. The teddy bears are then handed to children when they are in a time when they could really use something cuddly to hang onto!
Recently, I posted about discovering the blog Life With Hannah And Lily, in which a mother blogged about her beautiful little girls. At the time when I discovered the blog, the entries had taken a startling turn... on a family trip to the beach, 5-year-old Hannah had drowned. Since then, the posts have been filled with stories... some very sad, and some just plain beautiful, about how the family has been coping with Hannah's passing. Story after story shows that this was an amazing little girl who absolutely loved life. She was always noticing things like flowers or animals that nobody else noticed... she loved being out in nature... she loved bright colors and sparkly things... she adored her baby sister... and she was just a very special little kid.
I wanted to do something special to honor Hannah and her family, so this month the teddy bears I send to Operation TeddyCare will be sent in Hannah's honor. And I'd like to invite you all to do the same.
Here's what you need to do... its so simple, really! Go to any store that sells stuffed animals, and buy at least one teddybear or other cuddly stuffed animal. Box it up, and add a note inside the box explaining that you are donating this stuffed animal in honor of Hannah. Mail it to Operation TeddyCare. (See the site for mailing instructions and the appropriate address to use!)
You can even specify, on the box, which type of organization you would like your bear to go to. For instance, police and firefighters are always asking for small teddybears they can keep on hand to give to children at accident, fire or crime scenes; an organization that teaches disabled or disadvantaged children to ride horses is looking for stuffed horse and other farm animals to hand out to kids; teddybears are being handed out to children in military families whose family members are being deployed to dangerous places; and teddybears are handed out to seriously ill children in hospitals.
Once you've mailed out your teddybear, visit Life With Hannah And Lily and leave a comment, letting her family know that a teddybear has been sent in Hannah's honor. Lets see how many teddybears we can send out for Hannah! Whenever a child clings to one of these teddybears, Hannah's love will be with them.
Thanks for participating in Mission Monday!